Postscript


However, about one month later on the 13th of April at 11:45 p.m., a fire broke out in the Oiwake roundhouse, and the flames spread rapidly, and five steam engines, class D51 No.241, 465, 603 and 1086, class 9600 No.79602, eight new diesels, class DD51 No.682, 683, 684, 1079, 1103, 1144 and 1169, class DE10 No.1744, for a total of thirteen locomotives burned. The fire came under control at 1:05 a.m., but the wooden roundhouse burned down. "She killed herself and took along the diesels ! ".... such was the rumor on every rail fan's lips.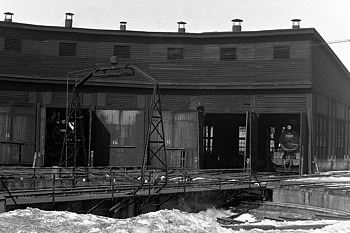 Before the Oiwake roundhouse burned down


After the fire, the 13 locomotives were lined up at the side of Oiwake depot. And they were retired (discarded) by the 4th of Aug 1976 and were scrapped later in the year of 1976.