The last special passenger train, named, "Good-bye to Steam" ran on December 14, 1975 on Muroran line Muroran to Iwamizawa with class C57 No.135.

The day before on the 13th of December 1975 at 2:03 p.m., C57_135 was deadheaded from Iwamizawa depot to Muroran depot in front of a DD51 diesel freight train.
It arrived at 6 p.m., but already many of the Rail-Fans and news media were waiting. From 7 p.m., C57_135 was decorated with the Good-By-Steam-Train plate etc .... And the the engine was sparkling clean.

C57_135 was manufactured at Mitsubishi Heavy Industry during 27th May 1940. It's manufactured number was 285. After its inception, C57_135 was deployed to the Takasaki depot, and it was mainly active on the Takasaki line. Later she was moved to Hokkaido's Otaru-Chikko depot, during Takasaki's electrification on 20 Aug 1952, after which, she was on the Hakodate line. Later, she was transfered to Muroran during May 1969, and finally C57_135 was moved to her last depot ...... Iwamizawa, during January 1970. C57_135 was active on the Muroran line passenger train service until her last day.

On the last day, the 14th of December 1975 06:30 a.m., C57_135 pulled out from the roundhouse, and loaded coal and water. At that juncture, there were already about 120 people wanting to ride on the Good-By-Train and had been waiting throughout the night. The number of individuals ballooned to two thousand by 7:30 a.m. Muroran station became extremely crowded.
At 7:36 a.m., C57_135 was deadheaded to Muroran station.
Afterward a short ceremony was held on Muroran station's platform. After JNR administration officer Mr. Ibuka and Mr. Sekigawa head of the General Directorate of Hokkaido gave their speech, a little girl named Imano of 13 years and Kuramoto, a girl of 7 years, brought a bouquet of flowers to the engineer and stoker.
At 7:58 a.m., the song Auld Lang Syne (Auld Lang Syne is a farewell song in Japan) was played at the station. C57_135 while pulling the Good-By-Steam train departed Muroran station with only a 8 minute delay.

Eight passenger cars carried 2,000 people and the car's interior condition was so overcrowded that no one could stir an inch. Fifty passengers were left behind on Muroran's platform. Throngs of people lined the sides of the tracks all the way to Tomakomai.... it consisted of local people as well as those of the media. The train arrived at Tomakomai after a 38 minute delay.
Finally, the last steam passenger train arrived at Iwamizawa with a 74 minute delay. It was 2 p.m. on the 14th of December 1975. After Iwamizawa city mayor Mr. Kunikane gave a speech, C57_135 was unhooked from the cars and moved to Iwamizawa depot. After which it dropped fire forever.
According to the 14th of Dec 1975 newspaper, the total along the railway line attracted 25,000 people, and those who boarded an got off totaled 4,200.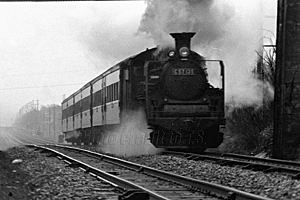 C57_135 running from Toasa on the Muroran line.
Mar 1971