C11 was the most popular tank engine in Japan. A total of 381 (*) were manufactured in the one tank engine class.
This was the second largest class manufactured in tank engines. The Ministry of Railways produced a new tank engine C10, after an interval of 21 years in 1930. C11 came about as an improvement of the C10 in 1932. Both the C10 and the C11 had the same specifications, but since rivets were not used on the body of the C11, a more modern appearance was welcomed.
(* JGR - 381, Private R. - 18, Total - 399)

The first C11 was manufactured at the Kisha Seizo Co.it's manufactured number was 1174 during August 1932. C11_1 was active mainly Kansai area. Finally, C11_1 was deregistered on the 26th of October 1962, and she was preserved at the Ome Railroad Park due to its historical value during 1962.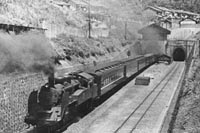 C11_74 banked Superexpress "Tsubame" up-train at the tail.
During 1930s, Kyoto - Yamashina.
(Photo credit to K.Nishio)

After its inception, the C11 went into service as a rapid-service train in Tokyo, Keihanshin (Kyoto-Osaka-Kobe), Nagoya, Okayama and Kumamoto where it received a favorable welcome. Production of the C11 continued for a period of 16 years through WW2 and ended in 1947. After the War, the use of the C11 became widespread in branch lines and yard work all over Japan.

During 1959, 379 C11s were still active all over on Japanese local lines and yard works, with the exception of one which was war-damaged (No.34), and one which was accident damaged (No.67). However, dieselization began during 1960 and spread even to local lines, so the C11 gradually decreased from that time on.

A Total of four C11s were sold to private railway companies as follows :
No.3 Aug 1964 to the Yubetsu Railway Co. 1970 retired and scrapped.
No.65 Feb 1961 to the Yubetsu Railway Co. 1970 retired and preserved at Akan town.
No.127 Jun 1962 to the Yubetsu Railway Co. 1970 retired and scrapped.
No.247 Jul 1968 to the Rasa Industries Ltd. 1976 retired and scrapped.

Almost all C11s still existed during 1960, but 5 years later during 1965, their numbers decreased to 298, ...... afterward, there were 203 during 1970, 87 during 1973, and all were retired by April 1975.
The last service line was the Shibetsu line in Hokkaido, six C11s (No.171, 176, 209, 224, 227 and 274) were by Kushiro depot.

There are many C11 preserved engines in Japan. This class represents the largest number of five restored engines in Japan.