Preserved car OHa-31 No.26 (1926 - 1983)

After WW2, more than ten OHa-31s, were sold to private railway companys.
Three OHa-31s No.26, 51 and 75 were sold to the Tsugaru-Tetsudo Co. in Aomori prefecture, and they were named the Tsugaru-Tetsudo's OHa-31 No.1, 2 and 3.

During 1983, they were retired from the Tsugaru-Tetsudo. Of these OHa-31s, No.1 (ex OHa31-26) was preserved at Ashino Park in Kanagi town, Aomori prefecture after 1985.
During July 2007, OHa31-1 was donated to the JNR because of its historic value. And she was transferred to the JR-East Omiya General Rolling Stock Center for remaking.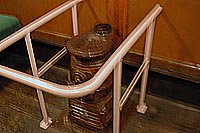 OHa31-26 Potbelly Stove

During October 2007, OHa31-1 was restored to OHa31-26's original shape and was exhibited at the Museum.
While OHa31-1 was active on the Tsugaru-Tetsudo, a "Potbelly Stove" was utilized by the car. It was called the "Stove Train" and was a common sight on the Tsugaru Aomori's beautiful local railway scene in the winter. This stove remained at the time of OHa31-1's remaking, and it can be seen at the Museum.
In addition, Tsugaru-Tetsudo's stove train was continuously serviced during the winter season (1st Dec - 31st Mar) by other stove cars.