Japan's first urban Electric Rail line was Tokyo's private railroad Kobu-Tetsudo's Chuo line on the 21st of August 1904. (Consult please Class De-963).
On the 16th of December 1909, government railway's Yamanote line and Tohoku and Tokaido lines from the Tokyo area were electrified. Herewith, Karasumori (present Shimbashi) - Shinagawa - Ikebukuro - Tabata and Ueno consisted of one section, and Ikebukuro and Akabane consisted of a second section, both sections started urban commuter Electric Train services from that day.





From a Timetable during October 1930
Tokyo's inauguration of electrification map



Line Color
Electrified
Section
Red
Aug 1904
Nakano - Iidamachi
Green
Dec 1904 to
Apr 1912
Iidamachi - Manseibashi
Yellow
Dec 1909
Karasumori(Shinbashi) - Shinagawa - Shinjuku - Tabata and
Ikebukuro - Akabane
Brown
Dec 1914
Tokyo - Shimbashi and
Shinagawa - Takashima(Yokohama)
Pink
Jan-Mar 1919
Nakano - Kichijyoji and Tokyo - Manseibashi
Gray
Apr 1925
Kanda - Ueno




At this time, a new car was produced and consisted of ten Class HoDe-1s (No.1-10), and it was about 2 times larger than Kobu-Tetudo's original body and was about 52 feet 11 inches in length with two pairs of bogie wheels. This class was renamed, the Class HoDe-6100 No.6100-6109, and a few cars were used up to and after WW2 by private rail companys.
The earliest use of commuter trains consisted of one car, but with the increasing number of passenger transportation volume, the cars were increased to two cars.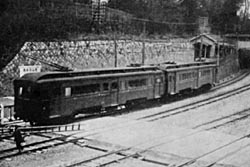 Uguisudani station
on the Yamanote (Tohoku) line.


During 1911-1912, eighteen improved models of Class HoDe-6110 No.6110-6128 were produced. During 1912, four more HoDe-6110 No.6129-6132 were produced. These HoDe-6110s were renamed to Class NaDe-6110 No.6110-6132.

On the 20th of December 1914, the Tokyo station terminal was opened. The section between Karasumori and Tokyo station was extended. At that time, Karasumori station was renamed ..... the new Shimbashi, and the original Shimbashi station was renamed .... the Shiodome Freight exclusive station.
With this extention, Class NaDe-6110 saw increased production No.6133-6144 at the Shinbashi workshops (electrical parts were imported), and a total of 35 were manufactured up to 1914.

On the 29th of August 1914, all NaDe-6110s were divided into three classes by configuration.

No.6110-6128 to Class DeHa-6260 No.6260-6278
No.6129-6132 to Class DeHa-6280 No.6280-6283
No.6133-6144 to Class DeHa-6285 No.6285-6296

On the 24th of November 1916, a fire broke out in the Shinjuku shed, and twenty cars burned.
However, during 1924, Tokyo's urban electrification line power voltage was raised from 600V to 1200V. At this junction, all old low voltage cars were retired. Those cars which survived the fire were retired at that time.




Class DeHa-6285 Comparative Chart


Class NaDe-6110
Original Number
Class DeHa-6285
Number
1916's fire
Meguro-Dentetsu
Class DeHa-41 No.
After Meguro-Dentetsu
6133
6285
survived
45
Hankyu Railway No.93
6134
6286
burnt
--
--
6135
6287
burnt
--
--
6136
6288
survived
44
Fukubu-Denki Railway No.4
6137
6289
survived
46
Hankyu Railway No.94
6138
6290
survived
47
Hankyu Railway No.95
6139
6291
burnt
--
--
6140
6292
burnt
--
--
6141
6293
survived
41
Shibaura-Denki MoHa-41
6142
6294
survived
42
Tokyu Railway
6143
6295
survived
43
Fukubu-Denki Railway No.5
6144
6296
survived
Remodeled
Class SaHa-6410
--