After WW2, Japan's sub-main line electrification was developed for AC. However, Tokyo and Osaka's urban lines and Tokaido, Sanyo line's arterial lines were already operating with DC electrification. So, if electric trains ran from Tokyo or Osaka to other branch lines with AC electrification, they needed an AC-DC dual electric car.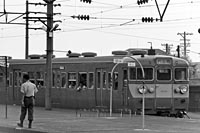 Series-421
Moji station, during Aug 1972



Consequently, JNR manufactured the Class KuMoYa-490 test car for AC-DC dual electric use during March of 1959, and made repeated test runs.
During 1960, AC-DC commuter type dual Electric Car Series-401 (AC 50Hz version) and Series- 421 (AC 60Hz version) were completed. From June 1961, Series-401's operation was started for Ueno - Toride (DC section) and Toride - Katsuta (AC section) on the Joban line. Also Series-421 ran on the Ogori - Moji run, on the Sanyo line (DC section) and Moji - Kurume (AC section) on the Kagoshima line.

With the approach of the opening of Sendai electrification on the Tohoku line, and Kanazawa electrification on the Hokuriku line, express type AC-DC electric cars were necessary. Around that time during 1958, DC express type Series-153s were already active.
During 1962, the AC-DC express type Series-451 (AC 50Hz) and Series-471 (AC 60Hz) were produced by adding the AC-DC car technology of the Series-401 and 421, to the express car technology of the Series-153.

Series-451s were deployed to Sendai and Katsuta depots and were active between Ueno and Sendai on the Tohoku and Joban lines express. The trains were named "Miyagino (Old historical name for Sendai-Plain) ", "Matsushima (One of the beauty spots in Miyagi prefecture) ", "Tokiwa (Area name for Ibaragi and Eastern-Fukushima) " etc.






"Matsushima"
Nippori, during Dec 1968






"Tokiwa"
Toride on the Joban line



Series-471s were deployed to Tsuruga depot and they were active between Osaka and Kanazawa on the Hokuriku lines, as express trains " Yunokuni (Hot spring region) ", "Tateyama (Name of one of Toyama's mountains)" etc.
The express train "Tsukushi (Old historical name for Northern-Kyushu)" between Osaka and Kyushu began between Osaka and Hakata after October 1965.
During 1969, AC 50Hz, AC 60Hz and DC triple mode electric car Series-457 appeared.






"Tateyama"
Takatsuki on the Tokaido line






"Yunokuni"
Yamazaki on the Tokaido line



However, express trains saw rapid change to limited expresses around 1975, and additionaly, the Shinkansen network was expanded.
Express trains gradually disappeared and Series-455 also saw reduced demand. During October 1982, Kyushu's express services were all closed, and Tohoku and Hokuriku line express services were totally closed during 1985.

Afterward, Series-455 were used only as local trains.
However, these local train operations also saw retirment during October 2006 in the Hokuriku area, and during March 2007 in the Kyushu area, and during July 2007 in the Tohoku area. On the 22-23rd of March 2008,
"The Sayonara (good-bye) Series 455 " train ran from Yamagata to Sendai and Koriyama on the Tohoku and Senzan lines. It was their last operation.