On the 19th of November 1956, Tokaido line electrification was completed, and all long-distance trains were changed to electric locomotives between Tokyo and Kobe.
The limited express locomotive trains "Tsubame" and "Hato" had their travel times shortened to seven hours and a half between Tokyo and Osaka because of electrification. Finally, with the development of high-speed electric railcar units, the limited express trains were able to travel between Tokyo and Osaka in a six hour and a half time period. This Six-hour-and-half time period was targeted, to enable a one day business trip between Tokyo and Osaka, and also, this time period, allowed two services a day, by 2 unit trains.

Numerous high-speed tests were done by the Class MoHa-90 test car during 1957. (Consult please Class KuMoHa-101) From these tests, production model design was completed, and three units of eight cars, for a total of 24 were ordered.
These cars were completed during September 1958, and one unit was constructed for four classes (KuHa-26, MoHa-20, MoHaShi-21 and SaRo-25) with eight cars.
On the 1st of November 1958, a train named "Kodama (Echo)" began regular service. In the beginning, "Kodama" ran between Tokyo and Osaka in 6 hours and 50 minutes, and the maximum speed was 110 km/ hr.
These classes were renamed to Series-151's Class KuHa-151, MoHa-151, MoHaShi-150 and SaRo-151 when class names were revised during October of 1959.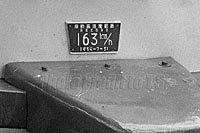 High Speed Recorded plate
KuHa151-3
Tokyo station



On the 31st of July 1959, Series-151 had the highest speed recorded in the narrow gauge of electric cars at 163 Km/hr between Fujieda and Kanaya on the Tokaido line during a high speed test. So, a High Speed Record commemorative plate was fitted on the head of KuHa-151 No.3 and 4.

On the 1st of June 1960, the locomotive limited express trains named "Tsubame" and "Hato" were designated Series-151.
An observation car (Called the "Parlor Car") and a dining car were added to the unit, and then the unit consisted of 12 cars. And the service saw an increase of four services a day, and was part of the 6 hours and 30 minutes, as originally planned.

During April 1962, electric car limited express service was planned between Tokyo and Niigata. But Tokyo - Niigata's Joetsu line had a long continuous gradient, therefore, Series-151 did not have enough power. Consequently, Series-151 was improved to a more high powered Series-161, yet, to be designed.
Fifteen Series-161 were manufactured during 1961, and three were manufactured during 1964 (these three were named Series-181 when they were completed).
On the 10th of June 1962, the first Tokyo - Niigata electric limited express train started service and joined Tokyo to Niigata in 4 hours and 40 minutes. This limited express was named the "Toki (One kind of Japanese bird species of "Ibis")

During 1964-1966, these limited express type DC electric cars were unified to the Series-181. All of Series-151 and 161 were standardized and transferred to the Series-181 up to the summer of 1966. After 1965, the new cars began as Series-181.
A total of fifty-three Series-181 were manufactured during the years of 1965 and 1968. Eventually, a total of 223 cars were manufactured in the 181 series.

With the development of Shinkansen lines, Series-181 saw a decrease of services.
By May of 1973, they disappeared from the Tokaido and Sanyo line's scene, and they were transferred to the Chuo, Joetsu and Shinetsu lines.
However, their culling began during 1975. Heir Series-183 was deployed after October 1978, and Series-181 was decreased to 64 cars.

Their last service consisted of three services a day on Joetsu line " Toki " trains.
On the 15th of November 1982, all of Series-181 were retired from regular service with the opening of the Joetsu Shinkansen. But a few cars were not scrapped and were kept for spare cars, but they also saw retirement after 1986.


Tokyo-Niigata limited express TOKI train






Okegawa on the Takasaki line
During Feb 1973.






Kawaguchi
during Aug 1970.






Kawaguchi
during Aug 1975.






Tagami on the Shinetsu line
during Mar 1976