Japan's first Electric Railway was a private company called the Kyoto-Denkikido Co. (currently Kyoto Transportation Bureau) in Kyoto city during January 1895.
In Tokyo, the first Electric Railway was also a private company called the Tokyo-Densha-Tetsudo Co. (currently Tokyo Metropolitan Government Bureau of Transportation) between Shimbashi and Shinagawa during August 1903. These were a streetcar type of railway.

Japan's first full-rail-track type of electric urban railway was opened by the Kobu-Tetsudo Co. It's currently Tokyo's major commuter line (Chuo line).
The Kobu-Tetsudo was first opened between Shinjuku and Tachikawa during April of 1889, and during April 1895, it was extended to Iidamachi.
Kobu-Tetsudo was electrified between Iidamachi and Nakano on the 21st of August 1904, and started electric train services for the first time, except for a tram on the Japanese railroad.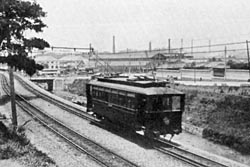 Kobu-Tetsudo's De-963
Ochanomizu - Suidobashi around 1905.

At this time, thirteen Class Ha- No.1-13 and three Class RoHa- No.2,4 and 5, for a total of sixteen electric cars were produced.
The car's controller and other electrical components were imported from US General Electric, also there was a wheel truck from US J.G.Brill and Co, and the bodies were made at the Kobu-Tetsudo's Iidamachi shop.
Those cars had two 600V 50 hp motors on board. The collecter consisted of two line, Trolley-Poles. And two cab models had two pair (four lines), one cab model had one pair of two line Trolley- Poles.

On the 31st of December 1904, Kobu-Tetsudo line was extended to Ochanomizu station with electrification. With the expansion of the electrification, twelve Ha- No.17-28 were manufactured during 1906.
However Kobu-Tetsudo was nationalized and these twenty-eight electric cars were transferred to the government railway on the first of October 1906.
In this way, they became the first government railway's electric carriages.



| | |
| --- | --- |
| (from Syosen Densya-shi) | Nakano station during 1906 |


After nationalization, the line was named Chuo line and extended line construction continued.
On the 19th of April 1908, Shoheibashi was opened, and after the 1st of April 1912, Chuo line was completed to Manseibashi. Around this time, four more Ha- (No.29-32) were manufactured and the total number of cars became thirty-two.
These 32 cars were divided into four classes by configuration, when class names were revised during 1910, that class consisted of NiDe-950, De-960, De-963 and De-989.

However, these small cars could not catch up with the increasing number of passenger transportation volume.
The Government Railway, consequently, produced a larger size 2 bogie commuter type electric car, and Series 963 were replaced by the heir cars during 1914-1915.
A part of the retired Series 963 were transferred to the following four private railroad companys.

Saku-Tetsudo (currently Koumi line on the JR-East) ; Total 6
Mikawa-Tetsudo (currently Mikawa line on the Nagoya Railway Co.) ; Total 10
Nansatsu-Tetsudo (after Makurazaki line on the Kagoshima-Kotsu Co.) ; Total 4
Shinano-Tetsudo (currently Oito line on the JR-East) ; Total 16

A few of these cars were transferred to other private railways, and most of these were later retired and scrapped from 1927 to 1955.