Preserved engine C51 No.5 (1919 - 1962)

Class C51 No.5 was manufactured at the Ministry of Railways Hamamatsu workshop, it's manufactured number was 5 during 1919.
She was named class 18900 No. 18904, and was changed to C51_5 during October 1928.
First deployment was to the Kobe area, and later it was transferred to Himeji, Takasaki and Umekoji depot. After WW2, she was placed at the Nara depot, and was active on Kansai line until her retirement. During December 1959, she was transferred to Ise depot, and retired on the 28th of February 1962.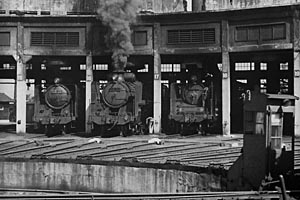 C51's prime time at Nara dipot during 1959.
From the left, C51_25, C51_114 and C57_56
(Photo credit to S.Sumino)

C51_5 was chosen as the preservation engine for the 90th anniversary of railroads in 1962 for the reason that it had earliest number in class C51. On the 19th of October 1962, C51_5 was exhibited at Ome Railway Park.
During the night of the 12th of September 1982, C51_5 tumbled over a cliff from the park by typhoon 18's mudslide and was badly damaged. Afterward, she went unattended, for a half year under a cliff, however restoration was started from the 21st of March 1983. During January to March 1997, C51_5 was fully made up.

On the 31st of May 2007, she was transferred from Ome Railway Park to Saitama's new Railway Museum which opened from the 14th of October 2007.