Profile ... of site owner Toki S.

End of 50's ...
I was born near the Jyoban line in the north-east part of downtown Tokyo. I often worried my mother when I went looking for trains. So, almost every day, I went looking for trains with my mother around Arakawa bridge on the Jyoban line. During the 60's, all long-distance trains on the Jyoban line were steam. I especially liked watching the Aomori limited express "Hatukari" (first spring geese) pulled by a class C62. I have like trains ever since ....

When I was 7 years old,
My father gave me my fist camera.
It was a 6 X 6 size brownie type and I began taking train photos ......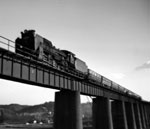 An example of my first camera
at my age of 8 with Class D51
on the Hachiko line.




At the age of 8,
I took my first long trip by myself to Kyoto.

At 10 and 11,
I began full swing taking train photos.

from 1968 to 1975,
Saw my peak for photographic trips.

During the period from 1971 to 1973,
I was a winner of major railroad photo contests.
I was nominated as the highest ranking winner in some of the photo contests.

After 1976,
My interest waned due to business responsibilities as well as the fact that, steam and old time electric engines had disappeared from the Japanese railroad scene.

During 2003 to 2005,
I converted my railroad photos to digital. The total came to over 20,000 scenes.

Finally,during 2007,
I decided to launch this Railway website and share my interest with fellow enthusiasts.

My other interests include other forms of photography,
HAM radio, traveling, as well as my duties as a Computer company President.
My other loves include my dog Jeannie, beer, chatting in English and of course my wife.

I am presently living in the downtown area of Tokyo near Ueno station on the Tohoku line.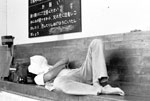 Waiting for the next steam train in a small station during my younger days.
Aug.1971.