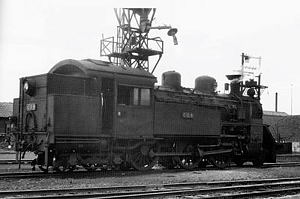 C10_8 Aizu-Wakamatu depot, during Mar 1960.
(Photo credit to S.Sumino)
The photo shows the engine C10_8, during Aizu-Wakamatsu working days.

During the 1960s, the largest eight numbers (No.2, 3, 4, 8, 10, 11, 21 and 22) of C10s were concentrated at the Aizu-Wakamatsu depot. They were active on the Aizu-Kawaguchi line (currently Tadami line) and Aizu-Takinohara line (currently Aizu Railway Co.) with mixed trains. However, the next year of 1961, C10 decreased to only two (No. 4 and 8) engines, and both engines were retired by March of 1962.