Yoshitune (Class 7100, No.7105)
Working Condition
1880 - 1923 (JGR)
Class 7100, No. 7105 nickname "Yoshitune" was manufactured at the H.K.Porter, it's manufactured number was 368 during 1880.




Consult please

Class 7100 No.7101 Benkei

(Photo by N.Miyagawa)
After JGR (1923 - )

No.7105, Yoshitune was deregistered on the 27th April 1923 from JGR, and it was sold to the Umebachi-Tettkosyo.
Afterwards, 7105 was reconstructed to a 4-6-0 tank engine, but the time of reconstruction is unknown. (1938? - 1941?)
Umebachi-Tettkosyo was renamed to the Teikoku-Sharyo-Kogyo Co. Ltd. during 1941.
During October 1952, 7105 was donated to the JGR from Teikoku-Sharyo, and restored to an original tender engine at the Takatori works.
Afterward, Yoshitune was safe kept at the Takatori works, and was loaned out for some festivals.
During the 14th of October 1963, it was designated a semi-Railway Monument.
During 1990, it was moved to the Modern Transportation Museum in Osaka.
During October 2007, it was designated a Railway Monument.
During March 2014, Yoshitune was moved to the Kyoto Railway Museum.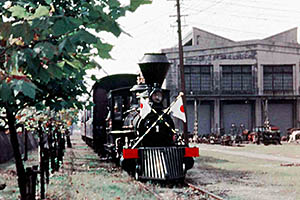 The Yoshitsune ran between the South gate and North-gate of the Takatori works.
This ceremony was held at the Takatori work shop during its 60th anniversary during October 29-30 1960. Yoshitsune gave a service with two passenger cars and pushing a diesel loco.

No.1 Yoshitune Biographic Data Chart


Date
Location
Application
Apr 1880
H.K. Porter Inc Sil No.368
Manufacture
Apr - Jun 1880
New York to Otaru via Yokohama
Shipping
Nov 1880
Poronai Rail way No.1
Deployment
Dec 1889
Hokkaido Tanko Tetsudo No.1
Transferred
1900 ?
Hokkaido Tanko Tetsudo No.5
Renumbered
(component replacement ?)
Oct 1906
Government Railway No.5
Nationalized
Oct 1909
JGR Class 7100 No.7105
Renamed
Apr 1913
Asahikawa
Service
27 Apr 1923
Hokkaido Construction Bureau (JGR)
Deregistered
07 Jun 1923
Umebachi-Tekko No.7105
Sold
1941 ?
Umebachi-Tekko
Remodeled Tank engine
17 Oct 1952
Teikoku-syaryo to JNR
Donated
Oct 1952
Takatori works
Restored No.1
1952-1990
Takatori works
Safekeeping
1990
Modern Transportation Museum
Moved
Mar 2014
Kyoto Railway Museum
Moved
| | |
| --- | --- |
| Introduction | Go to Top |