The biggest and last newly designed steam in Japan was the 2-10-4 tank engine E10. Only 5 sister engines were built in 1948.
E10 was designed as an banking engine. As a result, E10 was designed to ordinarily run in a backward-looking posture (normally boiler direction was in the rear), for the protection of engine drivers from smoke in slope sections with tunnels. Therefore, the driver seat was set on the opposite (left) side. (Japanese railways run with left-hand traffic).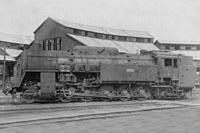 E10_2 active years during Aug 1955
Kanazawa depot
(Photo credit to K.Nishio)

The first E10 was manufactured at the Kisha Seizo Co. it's manufactured number was 2445 during 1948.
According to the original plan, after its appearance, they went into operation at the Itaya pass, Niwasaka depot, and started banking on Itaya pass, between Fukushima and Yonezawa on the Ou line. Thereupon, E10 replaced old banker class 4110 from this mountain section. However, this section was electrified just one year later.
E10 was converted to Yatake pass on the Hisatsu line, Hitoyoshi depot during November 1949. But on this section, there was no competition from the standard model D51. As a result, E10 was soon moved out to Kurikara pass on the Hokuriku line, Kanazawa depot during September 1955. But here also, E10 was soon out of a job, due to slope improvement. Next they were moved to Maibara depot during Jun 1957 and they worked on AC-DC relay section service between Maibara and Tamura on the Hokuriku line.
Finally, all E10s were retired as surplus at its still early age during 1962.

When selecting a historical steam locomotive during the 90th anniversary of railroad in 1962, the E10 was selected because of its biggest tank, as well as being the last newly designed engine. But the first E10, E10_1 was already scrapped during December 1959. Therefore, E10_2 was preserved in the Ome Railway Museum. The other four were scrapped during Jan-Feb 1963.