In regard to railroad transportation, the increase, in the number of cars (per unit of a train), augmented with carrying capacity while reducing costs at the same time. Therefore, in order to pull a heavier load, a super jumbo engine was needed and research began to fill that need in Japan during 1939. For enhanced railway capacity, the D52 was designed on such a background during WW2.
The D52 required simplification and metal reduction, as a wartime design. Wood was substituted as much as possible to replace the need for metal, such as, the smoke deflector and land board.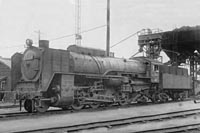 The original form's D52 No.338
during Apr 1950, at Maibara depot
(Photo credit to K.Nishio)

The first D52 was manufactured at the JGR Hamamatsu workshop, it's manufactured number was 89 during December 1943. She was active on the Tokaido and Sanyo lines, and was replaced with a new boiler during January 1958. During July 1967, she was retired at the Ogori depot, and was exhibited in the JR Hiroshima works. (currently JR-Freight Hiroshima works)

The new D52s were turned into military transportation on the Tokaido, Sanyo, Yamanote, and Hakodate main lines. Finally a total of 285 engines were produced up to the wars end in 1945. Originally the D52 was planned to be 498 in number, however, finally, 285 (57%) engines were completed by the wars end. Therefore, there were many unused numbers for the D52.

However, boiler accidents and other troubles happened often, due to a shortage of materials and rough wartime design. Therefore, their operating rate was very low. After the war, many of the D52s were left derelict from a lessening of freight. In those surroundings, D52 had a total of three boiler accidents during 1945 and one in 1954. Other than D52, there were only three boiler accidents during 140 years of Japanese railroad history.
On the 11th of August 1945 at the Mantomi station on the Sanyo line, a station passing D52_83's boiler burst, and the boiler flew off from the travel unit and dropped down on to the platform. Two passenger cars were damaged, and two crew members died from that accident.
The four accidents mentioned above in 1945 and 1954, another three were, the 19th of October 1945, D52_209 at Samegai station, the 7th of December 1945, D52_371 at the Mitsuishi-Yoshinaga section, and on the 30th of August 1954, D52_365 at Yamashina ... were all boiler bursting accidents. All of these D52's had coarse parts, the boilers were replaced with normal modern parts up to 1956.

Forty-nine D52s were converted to the passenger model C62 during 1947. Twenty engines were remodeled to class D62 with an axle load relieved (2-8-2 to 2-8-4), for sub-main line operation.

56 were retired because of war-damage or poor condition up to 1950.
D52s were continuously used after the war on the Sanyo and Tokaido arteral lines. After the electrification of Sanyo, Tokaido, Yamanote, D52s were turned over to Kagoshima (Northward from Tosu), Hakodate and Muroran lines (between Hakodate - Muroran).
D52's full surplus culling began from 1963. During 1962, there were 153 D52s, and were decreased to about 100 during 1964. Of these, 70 were operated on the Sanyo line, they were :
18 on the Yanai, 15 on the Hiroshima and 37 at Ogori depot. They were retired by Sanyo line electrification during Jul 1964.
The other 30 D52s were deployed as follows :
13 in the Goryokaku depot (No.56, 136, 138, 140, 201, 202, 204, 217, 235, 400, 404, 414 and 468) for the Hakodate and Muroran line,
6 in the Kozu depot (No.62, 70, 72, 236, 335 and 403) for the Gotemba line,
11 in the Suita depot (No.28, 55, 117, 142, 148, 216 ,232, 354, 405, 423 and 466) for the Jyoto line.

6 years later, during 1970, the number was decreased to 10 (No.56, 136, 138, 140, 202, 204, 235, 404, 414 and 468) on the Hakodate line at the Goryokaku depot. D52's last operation was during the early stage of 1973 on the Hakodate line by D52_140 and 202.