A total of 46 saturated steam utilization engines, of the 4-4-0 tender type class 6700, were manufactured in Japanese private engine builders from 1911.
Of the class 6700, a total of 27 were reconstructed to " Superheated Boiler " type engines during 1928-1930, at the Ministry of Railways works, and were named class B50.

After coming on the scene, B50s were restricted to yard work mainly in the West part of Japan, much like that of ; Takatori (Kobe), Wakayama, Ryuge, (Osaka), Toyooka, Miyahara (Osaka), Suita (Osaka), Yoshizuka (Fukuoka) and Nagasaki depot. And they were used until 1957.
The last B50s were B50_10 and 26, they were deregistered during 10 November 1958 at the JNR Suita works. All engines were scrapped.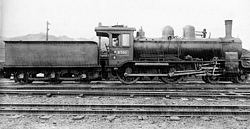 Class B50 No.11, at Takatori depot. Jan.1932
(Photo credit to JNR Takatori workshops by K.N.)