The No.1 engine was manufactured at the Vulcan Foundry Ltd, It's manufactured number was 614.
The design plan mentioned "Oct 16th 1870". This probably was the date that it's design was completed.
Seen here is the only remaining photograph from the manufacturer and if compared to present day photos, there is a major gap in appearance in engines seen today.
According to Christy, "No.1 was manufactured at the Vulcan Foundry. But it's present condition is very bad. I tried repairing it, but I'm quite disqualified to do so if used for passenger trains." ..... So, it would appear that No.1 engine's performance was not particularly satisfactory.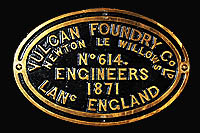 Vulcan Foundrys
Engine builders plate.



No.1 was moved to the Osaka area from the Tokyo area during November 1880. In those days, there was an opening between Kobe and Otsu as part of the Tokaido line, but in reality, what exact sections saw its service remains unclear.
During July 1884 to June 1885, No.1 received a makeover at the Kobe works. This fundamental reconstruction probably overcame some of the original flaws. It was then that its appearance changed.
After that, No.1 was moved to Handa (Near Nagoya, Taketoyo line ), and was used for Chuo line construction. After completion of work on the Chuo and Tokaido line, No.1 was continuously used on the Taketoyo line, and was later moved for yard works in the Osaka area.
Later, No.1 was renamed to class 150, when class names were revised during 1906.

During the 1st of April 1911, No.150 was retired from the government-railway, and was sold to the newly opened Shimabara Railway Co. and it's number was changed to Shimabara's No.1. (Shimabara Railway Co. was opened during June 20 1911)
During Shimabara's Railway time, No.1 was exhibited in Fukuoka during the 50th anniversary of railroading in 1922.
No.1 was gradually accepted as being historically worthwhile, accordingly, No.1 was given back to the government-railway.
During June 1930, No.1 was exchanged with an another engine (Class 600 No.656) and given back to the government-railway. During this time, Shimabara Railway's president placed a plate " Farewell with fondness of our hearts " and it is still there on No.1's main frame.